In today's world social media is a part of most people's everyday life and can be an excellent tool for any business. That includes recruitment where it's commonly used to circulate job vacancies and source candidates. Twitter, LinkedIn and Facebook amongst others, all allow companies to network and get their name out there with minimal cost involved. However a recent survey by the Chartered Institute of Management shows that two-thirds of today's managers do not know how to use social media effectively. When a business gets it wrong it can be horribly embarrassing with a faux pas going global in seconds. An incident last week between applicant Rachel Fox and The Sherlock Holmes Museum is a good reminder not to send a testy email in reply to one from a prospective candidate, even if you disagree with the candidate's query.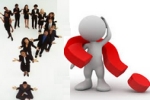 Graduate Rachel Fox had emailed The Sherlock Holmes Museum to ask for some more information about a job she had seen advertised online. Her request to clarify some points of the advert and ask for a more detailed job description was met with a blunt response implying that she was lazy and selfish. The response included the comment: 'You have to think first whether we might want to answer all your questions even supposing we had the time. You are putting yourself first in life instead of thinking what others might want from you". It also said they were "not interested in a series of questions from a person who cannot be bothered to include their own CV in their enquiry".
Rachel shared her experience on Twitter. Although she had fewer than 1000 followers on Twitter the net effect caused her Tweet to go viral after she posted the response she received from the museum. The replies she received were mostly negative comments about the museum and in turn its reputation has suffered damage. They do say, 'it's not what you say but how you say it'.
Of course Rachel could have used alternative methods to find her answers but in her defence such a response was not necessary. Some job advertisements are more detailed than others although there's usually an information pack available to those who want to find out more. Candidates are usually expected to do some research sand the extent of that becomes evident upon receipt of the application. The extra information is usually available (and if an applicant for the museum of the world's best known detective can't be bothered to do a little investigation it would be a poor thing!).
Asking a prospective employer for information is perfectly acceptable. It's quite reasonable to want to know if the role is one the prospective candidates wishes to pursue. Asking relevant questions usually shows an element of initiative. There is little point in applying for a role when it is not really suitable. In Rachel's case she enquired about specific aspects of the contract as the advertisement only stated it was full time, and asked for more details on the rates of pay (£25-35K is a fairly broad range!). It would have wasted her time and that of The Sherlock Holmes Museum is she had applied for a position that was completely unsuitable for her.
Most employers are too busy to have individual conversations with all the candidates. In that case they have to be prepared to give out relevant information at an early stage to enable candidates to decide if they want to apply. Andrea von Ehrenstein, who sent the unfortunate email, and other recruiting managers must remember that recruitment is a shop window and good manners, clarity of communication and efficiency in responding to enquiries are the hallmarks of a good employer. Candidates may not tweet about the good experience they received but at least they won't tweet about appalling rudeness of the type experienced by Rachel Fox.
It works both ways. Candidates should research the company they are looking to apply to, not only to show a genuine interest in the role and company, but to show initiate and self-sufficiency. In many jobs employees are expected to research and find answers for themselves which is why it is also done at the recruitment stage. But there are some pieces of information an employee will have to ask for, and being confident enough to speak up and ask questions is never a bad thing.
It's a clear example of not thinking about the further impact of actions inadequately considered and rashly taken in this immediate and public world of social media.
As the great man would have said "It's elementary my dear Watson!"
Russell HR Consulting provides expert knowledge in HR solutions, employment law training and HR tools and resources to businesses across the UK.
Subscribe to our free monthly HR newsletter. Russell HR Consulting employment law newsletters are emailed automatically to our ever-growing number of subscribers every month.