Do you remember this from when you were a kid?
Christopher Robin had wheezles and sneezles.
They bundled him into his bed.
They gave him what goes with a cold in the nose and some more for a cold in the head.
They wondered if wheezles could turn into measles; if sneezles would turn into mumps.
They examined his chest for a rash, and the rest of his body for swellings and lumps.
They sent for some doctors in sneezles and wheezles to tell them what ought to be done.
All sorts and conditions of famous physicians came hurrying round at a run.
They all made a note of the state of his throat.
They asked if he suffered from thirst.
They asked if the sneezles came after the wheezles, or if the first sneezle came first.
They said, "If you teazle a sneezle or wheezle, a measle may easily grow.
But humour or pleazle the wheezle or sneezle, the measle will certainly go."
They expounded the reazles for sneezles and wheezles, the manner of measles when new.
They said "If he freezles in draughts and in breezles then PHTHEEZLES may even ensue.
And so on. My mum was an English teacher so I was brought up on all this type of traditional stuff. The pottiness of it still makes me smile. It's from 'Now We Are Six' by AA Milne if you want to read it to your children/ grandchildren. They like the rhyme to it, even though it's old fashioned.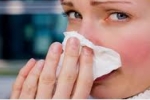 Coughs and colds and winter usually go together and winter is definitely upon us. Mornings are dark and dank at the moment rather than frosty, but we've got our heaters on in the office and each morning we all trundle in wrapped in thick coats, scarfs and gloves. I have an overwhelming urge to wear bright colours in this weather and provide a dazzle of colour propped up against my standing desk.
With the colder, wetter weather we also tend to see the rise of coughs, colds and flu. So far this winter we haven't had much of it passed around our office at all. It might be luck, but we're also keen on cleaning and that really helps to stop the passing of bugs. (Clean) fingers crossed it stays that way! I had flu on Christmas Day once. I was so ill I couldn't even gargle a glass of fizz, never mind eat Christmas dinner. I just lay palely suffering and feeling rotten. What a swiz.
Some people are real troopers and will do their best to work through any cough, cold or minor illness. These people usually have to be pushed back through their front door in order to get them to take some proper rest. At the other end of the scale are those who have a tickle in their throat or break a nail and need to take a week off work to recover. It is usually easy to tell who falls into the latter category as he (or she) will tend to have a high level of sickness absence and no underlying medical condition. Usually the reasons for absence will be pretty minor.
Germs from coughing and sneezing are passed from one person to another. It's gross when you think about it – the germs from someone else's nose find their way into your body, usually by way of your mouth, and make you ill. Avoidance may be simple stuff that you have heard a hundred times before but if applied, the tips below will help to reduce the germs being passed around.
A great deal of minimising the spread of germs is good hygiene and keeping workspaces clean. A survey last year found that 62% of men and 40% of women do not wash their hands after going to the toilet. It's no wonder germs spread like wildfire sometimes! Signs in your toilets and even instructions on how to hand wash properly can prompt people to do it. Ensure there is plenty of soap, hot water and a drying facilities such as a hand dryer or paper towels. It should take as long to wash your hands as to sing a verse of happy birthday. You can also download handwashing songs from website like Carex (http://www.carex.co.uk/handwashing-songs). These might be aimed at children but adults are big children so have a sing as you wash your mitts. It makes you cheerful and you'll have cleaner hands!
Many people put their hands over their mouth when coughing or sneezing. It's better than blasting it around everyone else, but then the bugs are then on your hands (even if you use a tissue or hanky). Always use clean tissues. Keep hankerchiefs for mopping the corners of your eyes delicately at a weepie (film). Don't use hankies if you have a cold. They are wriggling with bugs. Encourage people to wash their hands after coughing or sneezing and bin any tissues used.
Clean workspaces regularly. Many people eat at their desks making it a breeding ground for germs. At Clare Stables the rule is eat when you take a break. Take a break away from your desk.
Keep snacks and food for the kitchen or staff room. Keeping food in the desk encourages vermin – another source of contamination.
Tidy away the things that don't need to be out on your desk. Wipe everything with antibacterial wipes regularly. This includes phones (keypad and handset),keyboards, monitors and mice (this time I mean the ones you use with your pc and the only sort allowed in the office). Consider the wider workspaces and communal areas as well such as printers, filing cabinets, door handles, light switches etc.
Encourage employees to look after their own health. Those in good health will have better immune systems. A balanced diet and regular exercise are important. Vitamin C and zinc both provide immune support helping to fight off colds or at least shorten the impact of them. Dress sensibly. Wear layers between waist and neck. This are houses your vital organs and research shows that if you keep the area warm and protected you are far less likely to get colds etc. It's amazing how many people are walking around at the moment without coats on. As the temperature outside drops the layers of clothing should increase.
Flu is much worse and potentially far more serious than a common cold. Every year all of the Russell HR team will go and get a flu jab. Having a flu jab does not give you flu. Though a flu jab will not stop you from getting a common cold it is more likely to stop you from getting the flu virus.
For those who do end up with a cold this winter there is, unfortunately, no quick fix. A couple of days of proper rest, plenty of sleep and lots of fluids and you will be on the mend in no time.
We deal with the good, the bad and the ugly of HR. If you need help resolving problems with handwashing songs, poorly employees, employee absence or any other HR issues, give us a call on 01908 262628.
Signed up for our free resources and free weekly tip yet? Register and subscribe here.
Russell HR Consulting provides expert knowledge in HR solutions, employment law training and HR tools and resources to businesses across the UK.
Subscribe to our free monthly HR newsletter. Russell HR Consulting employment law newsletters are emailed automatically to our ever-growing number of subscribers every month.