Anybody who has ever worked in HR will know that when you've got an issue on your hands, it can be hard to stray from the comfort and security policies, procedures and guidelines just in case you might be breaching employment law legislation. But some circumstances however require you to use your noggin rather that an employment law manual (where we excel incidentally!) and unfortunately all too many people overlook the importance of that. Sometimes, the result of blinkered sticking to policies, procedures and guidelines mean that fairly simple issues are blown out of proportion and can become massively over-complicated as a result.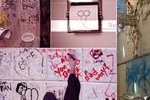 I came across the case of Whitehouse v KomfortWorkspace plc and it really takes the biscuit. The case involved the employer going to extraordinary lengths to find out who was responsible for graffiti in its factory toilets.
Mr Whitehouse was employed as a technician for Komfort Workspace and had an unblemished disciplinary record. In August 2010, there was some sort of falling-out took place at the factory between two Komfort employees, Mr Rockcliffe and Mr Hooper. During the investigation of the incident, Mr Hooper explained that there had been racist graffiti in the toilets. All of the employees, including Mr Whitehouse denied having written it.
The company instructed a qualified writing expert to take a look at the graffiti. Much of it had been destroyed or cleared away and so the evidence was in the form of Mr Hooper's blurry (and mostly indistinct) mobile phone pictures. The employees provided samples of their handwriting to the expert confidentially, who compared them with the photographs.
The expert's report concluded that there was "strong evidence" to suggest that the majority of the graffiti was authored by two employees; Mr Deeming and Mr Whitehouse. There were many similarities between the handwriting of the two, and in light of this evidence the company decided to suspend them.
So five months after the initial incident, Mr Whitehouse was invited to attend a disciplinary hearing where he denied any involvement in the graffiti writing. Despite that, he was dismissed for gross misconduct. Mr Deeming was also dismissed on the same day.
Mr Whitehouse appealed, and the employer instructed a second expert - a forensic handwriting examiner – to do some further investigation. The report said that there was "moderate evidence" to suggest that Mr Whitehouse was responsible for some of the words in the graffiti. However, following an appeal hearing in January 2011, the decision to dismiss was upheld and Mr Whitehouse successfully claimed unfair dismissal.
The tribunal found that there was a lack of reasonable grounds to sustain its belief in Mr Whitehouse's guilt and that even if it was wrong on that point, the company's investigation was not reasonable. A reasonable employer would have taken into account his long service and previously unblemished disciplinary record. The tribunal stated that "writing rude words on a lavatory wall is both juvenile and reprehensible" but would not be grounds for dismissal by a reasonable employer.
Life is often considerably stranger than fiction (well, it is in our world and Komfort facts support that view). How much should you rely on statutory guidance and procedures, and how much on common sense? The reality is, every case turns on its own facts and examining the scenario and deciding on the best course of action to take involves looking at both principles. By all means discipline, but always err on the generous side of caution if there's any doubt at all. What the Komfort case does show us is that evidence that is specialized in nature is not automatically more important than employee evidence, particularly if the individual is accused of misconduct.
Is the writing on the wall in your business? If you've got a case to sort out, give us a call! We'll know exactly the right course of action to take that's both compliant and sensible.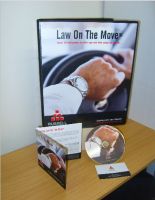 If you want to remove all your employment tribunal worries with immediate effect keep up to date with employment law and important decisions. Law On The Move® (LOTM) is a comprehensive employment law update product. Subscribe now to receive seven updates including audio updates, interactive webinars, and action points for employers.
With LOTM you'll:
save time getting up to date with employment law issues
be able to replay and refer to all the knowledge as often as you like
ask and receive answers to your questions
save money – this product gives so much bang for your buck!
receive practical advice
be able to plan and organise your work load really effectively
achieve compliance
Russell HR Consulting provides expert knowledge in HR solutions, employment law training and HR tools and resources to businesses across the UK.
Subscribe to our free monthly HR newsletter. Russell HR Consulting employment law newsletters are emailed automatically to our ever-growing number of subscribers every month.