Last week I was reading an article about CVs: 'The CV is dead – long live the CV'. While most of the CVs I see do deserve to be buried (without military honours) it made me think about the subject.
The article suggests that more than half of millennials have some form of digital CV. One in ten provided a CV at their last interview. It seems that some candidates don't believe they have to prove themselves to potential employers. Instead they believe that if they don't have the necessary skills to do the job they can learn as they go. Wow! Let's all be neurosurgeons for the day and see how it goes…. Perhaps not.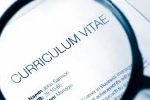 The CV isn't so much dead as changing and that's a good thing. Traditional CVs are often rather dreary, over long statements listing every work experience, every college attended and every hobby enthusiastically picked up (and as quickly forgotten). All too often there is so much poetic license involved that they are more fabrication than truth.
Even if they are relatively factual, getting a list of credentials isn't an accurate predictor of success. What we want to know is either can the candidate do the job or has the candidate the potential to learn to do the job.
There are urban rumours of different and interesting CVs sent to impress potential employers though the hundreds I've seen have all been deadly traditional. If the submission is relevant to the job role it's an excellent idea. One would-be designer created and sent a mocked-up magazine cover instead of a CV. It was so good they created a role for her. Another apparently sent his CV on a chocolate bar. I gather it hit the sweet spot and he got the job too. Other candidates have created games and others used snapchat. It's a case of differentiate or die.
We need to approach recruitment differently. When recruiting for a position be clear what you are looking for. Start by creating a job description and person specification, then decide on a recruitment process. I discourage CVs for the reasons I've given. I would rather use an application form which has been designed to capture skills and aptitude relevant to the role. You can more easily contrast and compare candidates using an application form.
I do ask for evidence of various competences to be submitted because I really don't have the time to hold speculative meetings with candidates who do not submit relevant information in advance. It might be by asking the candidate to submit an example of work from his or her portfolio, create a letter, report or some other assignment which helps gather relevant data.
We regularly host interns and work experience students because we are always looking for the right candidates to train. All of our consultants start as trainees and go through a structured training programme (see Russell HR Consulting Opportunities page for more information).
Not only is the experience useful for the interns we gain real information about them which is much more helpful than knowing how many GCSE or AS Levels they acquired a few years ago. We have appointed on that basis several times.
We deal with the good, the bad and the ugly of HR. If you need help resolving problems with recruitment or any other HR issues, give us a call on 01908 262628.
Signed up for our free resources and free weekly tip yet? Register and subscribe here.
Russell HR Consulting provides expert knowledge in HR solutions, employment law training and HR tools and resources to businesses across the UK.
Subscribe to our free monthly HR newsletter. Russell HR Consulting employment law newsletters are emailed automatically to our ever-growing number of subscribers every month.